Learnetic Lands a Perfect Score for Education Software

Access to education software and textbooks has historically been a huge roadblock in the path toward educational equality. Today, with the help of rapid advances in technology, many schools are taking advantage of digital textbooks to provide top-tier educational resources to their students at a fraction of their former cost.
That opportunity for students around the world is why we at Learnetic developed a proprietary textbook-digitizing software. Our solution makes it easier than ever for textbook providers like Kreativni to help schools to make the switch to digital education. And, according to satisfied customers like them, our work is helping.
They've turned to Clutch, a B2B services platform that hosts detailed, unbiased ratings and reviews to share their experience. In our first review, we ranked 5 out of 5 stars in every category.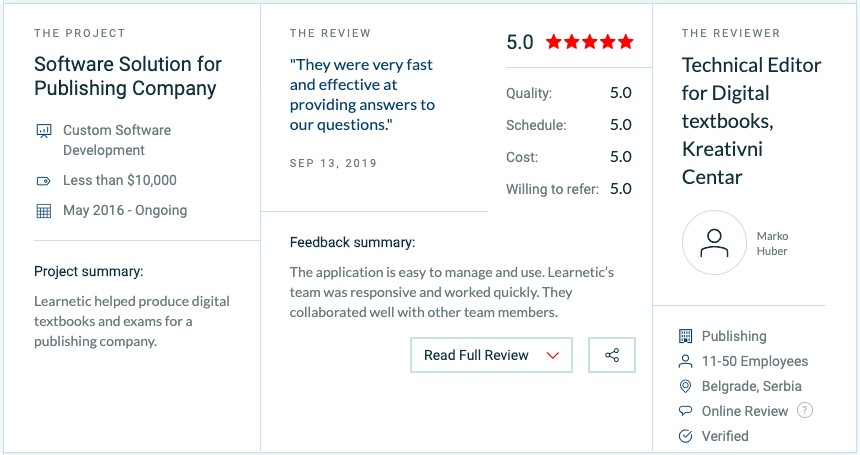 Highlighting the way we prioritize cross-team communication, they explain their satisfaction with our "well-designed application, "calling it "easy to manage and use." – Technical Editor, Kreativni
Our customers are the most important component of our success, and we are confident that delivering great education software experiences to them is the only thing we need to focus on to do well. That's why we love hearing reviews like these!
We are excited about the opportunity to showcase our skills and services on Clutch, which provides a variety of information sources aimed at helping buyers find the best service provider for their business needs. The Manifest presents readers with blog-style directories of leaders in each industry, and Visual Objects offers a portfolio of projects involving elements of design. Each site brings in a lot of potential partners who could help grow your business!
Textbook digitization is just one of the ways we help support better learning in the digital age. To learn more about the services we offer and how we can help you build better educational experiences for K-12 education, contact us today!